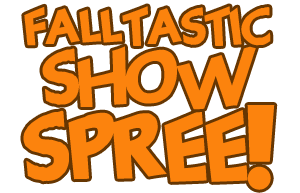 Just How Many Shows Can You See in One Week? Find Out When You Visit Branson During Falltastic Show Spree Week!
For the first time ever, Shows in Branson are challenging fans to see as many shows as possible in one week by offering a Falltastic Show Spree pass good for attending an ulimited amount of shows for the unbelievable price of only $87.50. This amazing pass will be good for one week only, September 11 - September 17, 2023, and pass holders can choose to see as many shows as they would like from the list of participating shows. As of January 18, 2023, over 30 shows have signed up to be a part of the Falltastic Show Spree. Fans can see their favorite shows in Branson, Missouri for only $87.50 and that's over 90% off Box Office prices. (Click Here for information on how the pass and program works).
Sponsored by The League of Branson Theatre Owners and Show Producers (The Branson Show League), the Falltastic Show Spree is THE event for live show fans, music festivals groupees, and concert goers from across America to converge on this small Midwestern town, known as the "Live Music Show Capital of the World". From September 11 - September 17, 2023, fans of Shows in Branson are able to see their favorite Branson shows and discover new favorites on a first come-first served basis by using their 2023 Falltastic Show Spree passes.
"Shows, shows, and more shows, for just a fraction of their normal cost. At this rate the passes should go fast as we are only making a thousand of them available." says Aaron Hughes, Hughes Brothers Theatre Marketing Director and star of the Hughes Music Show.
2023 Falltastic Show Spree passes are for sale only on-line at the official FallTastic Show Spree website of the Branson Show League, FallTasticShowSpree.com, and are limited to purchase by individuals. Click here for information on how the program works.
Diana Allyn, of the Carpenters Once More and Neil Diamond Tribute Shows, believes this is "hands down the greatest show ticket value you will see all year in Branson."
"By making this pass good for an unlimited amount of shows, we believe that customers might discover some shows they might not be aware of as being a part of the Branson show scene." says Vance Hebblethwaite Sales & Marketing Director for Hamners' Unbelievable Theatre and Branson Show League President. "With over 30 shows already participating, you'll be able to see a show morning, afternoon, and night all week long."
A complete list of shows to choose from appears HERE. Please take a moment to look over the list of shows and read how the Show Spree Pass works by clicking on this link.